Read now: Q&A with Heart of the City Graduate, Sofia
We recently had the chance to talk with Heart of the City 2020 graduate, Sofia, who is now attending Marian University and playing collegiate soccer on scholarship.
Sofia shares how she got started with soccer, her journey with Heart of the City, and her current experience as a college freshman during the times of Covid-19.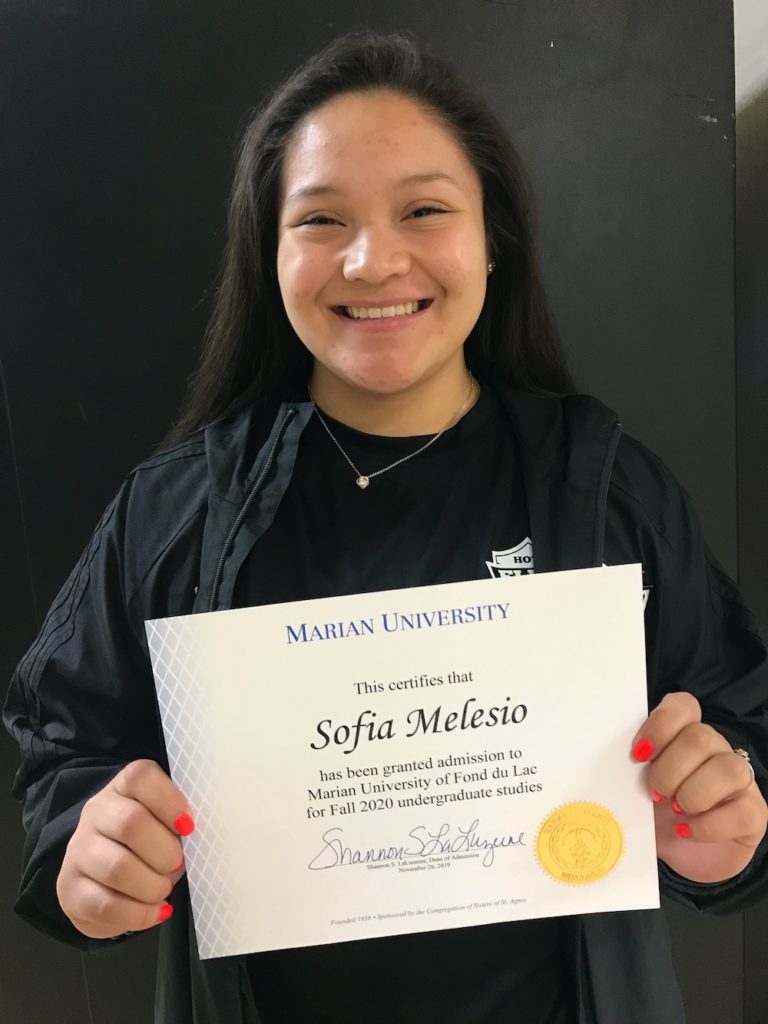 What made you first want to join HOTC?
I was introduced to it by another player. At first I wasn't sure if I wanted to do it because I had never been in a club outside of AYSO (American Youth Soccer Organization) so it was kind of scary for me. But then the first day of my tryout, I liked the environment a lot. It was very family-friendly and I got comfortable really easily.
How did you get introduced to soccer?
Through my family. My sisters started when they were 8 or 9, mainly because of my dad — they wanted something to share with him. And then I got pulled into it, and my mom was my first coach.
What was your senior year like this year as a high school senior during Covid-19?
We went on spring break a week before we were supposed to – they wanted us to quarantine. We all thought we would be back after spring break, and we would still have our soccer season, but then we never went back to school. So it was kind of hard. Especially for me, since my sisters played soccer in high school and they had their senior night for soccer and everything, and I always looked forward to having that someday. But my teammates made the most of it — they did the senior parade which was really nice.
Soccer is very much a stress reliever for me when it comes to school. So being all online the rest of the year and not being able to go outside and play was kind of hard.
Was Heart of the City able to support you during that time?
They still checked up on me to make sure I was doing what I needed to do so that I could still go to college and play soccer. They were giving out soccer drills to do to help us stay in shape. And then with the meal plans, I didn't get the meal plans, but I saw other people getting them, which was really nice because that's what people need right now with everything going on.
You are now playing soccer in college at Marian University. Did you ever see yourself playing soccer in college/ was that part of your plan growing up?
I think I've always wanted to play soccer in college, I've never wanted to stop playing soccer, but Heart of the City gave me the opportunity to pursue that more seriously, and pushed me further to want to play.
It has to be challenging starting your first year of college during this time. What has it been like this Fall?
We weren't able to start soccer to do preseason practices initially. The athletes have been impacted by Covid-19 a lot. First hockey had someone who got Covid, and then lacrosse, and then men's and women's volleyball, so basically everyone has been quarantined. So they pushed back our practices another week or two. Now they're telling us during practice we have to wear our masks the whole time. We practiced yesterday and it was so hard to breathe and everything.
Overall, how has your experience at Heart of the City impacted you?
With the physical aspect of playing soccer, Heart of the City helped me a lot with my skills and learning different playing styles. And with college especially, Heart of the City helped me a lot. They really pushed me to do more with my college, helped me fill out my applications, made sure I went on college visits, and helped me get in contact with coaches. I honestly don't know if I would be playing soccer in college right now if it wasn't for Heart of the City.
As far as non-soccer related programming, what is one thing that you feel has been most meaningful to you?
I think having the opportunity to coach the younger kids and just spend time with them, see how they think when they play. Being able to help them be better soccer players or just continue playing soccer was really nice to do, and coaching helps me obviously with pursuing my career as a teacher and knowing what I want to do and everything. It's nice to be the person who the kids look up to.
I've also made a lot of friends here…I never really knew anyone in Waukegan because I'm from Round Lake, but I feel like Heart of the City really helped me create a family. It's really nice to have friends that are outside where I'm from and outside my comfort zone and everything. Also the coaches here were always there for me and just pushed me to be better — not only a better player, but a better person. It was really nice to have older people to look up to that want to see me do good things and are positive role models in my life.
If you could say anything to Heart of the City donors, what would you say?
I would tell them how impactful it is for them to be doing this for us and allowing us to play while getting help with education. It's really nice of them to help us pursue our dreams and our careers and what we want to do in the future while playing soccer.
---
There are other students like Sofia who could greatly benefit from Heart of the City's programs. To support students like her and ensure we can continue to run our programs for the youth of Lake County, please consider making a tax-deductible donation today!
The Julian Grace Foundation is supporting this year's annual fund efforts with two really impactful opportunities for donors. Every new or increased donation will be matched dollar-for-dollar! And, if you support Heart of the City with a monthly sustaining donation in any amount, you'll help us unlock a $5,000 program grant. We hope you will consider joining our community of supporters. Thank you!