Back-To-School Classic: August 20th - 22nd, 2021
Registration is now open!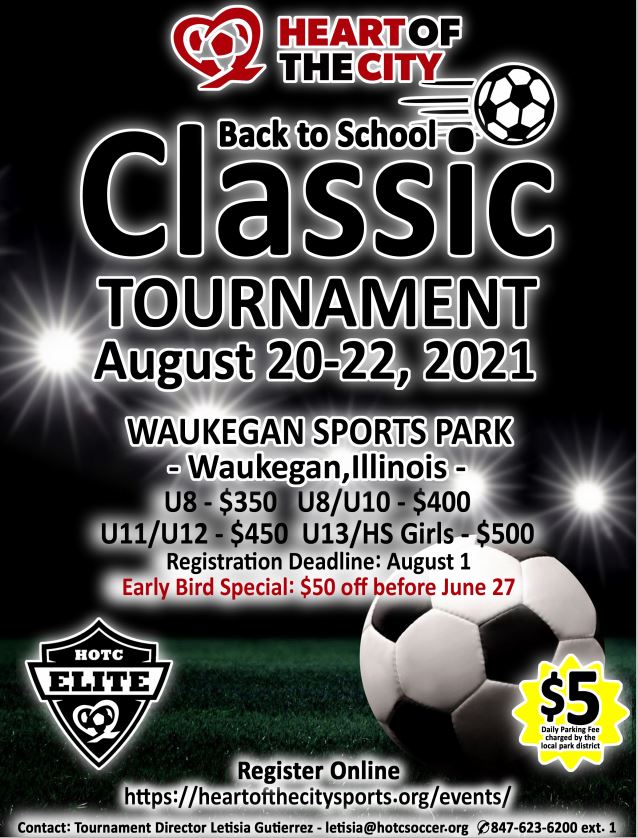 Heart of the City welcomes local teams and teams across the Midwest to compete in the Back to School Classic tournament on August 27-29, 2021. The tournament will be held at Waukegan Sports Complex, an elite soccer venue in Northern Illinois. All teams will play a minimum of 3 games, with additional championship games for bracket winners.
Tournament Features
- Pre-fall season tournament to prepare your players/team
- 3 games guaranteed
- Championship games, trophies
- Elite tournament venue/fields
- College ID Combine on Friday 8/20 - free for registered HS players teams/players
- Flexible scheduling requests
Registration and payment through GotSoccer. Deadline to register is August 1st.
https://system.gotsport.com/event_regs/23db1cba7b
**Early bird special - $50 off per team with registration before June 27th
*Parking will be charged by the park district - $5 per day, per car
Tournament Rules: https://docs.google.com/document/d/1HK_OiUZkMXQSKud82v6Qfj4jMmyAGf6bOm26fiD2oQo/edit?usp=sharing