College Soccer Recruitment Program
Heart of the City has developed a plan to invest in your student-athlete beyond high school with our competitive soccer (HOTC Elite) and college and career-readiness program. One important component of this program is college soccer recruitment. The following information highlights the benefits of playing with Heart of the City and how we can help make playing college soccer a reality.
Unlike most soccer programs that just send their players to tournaments, we enhance the possibility of being recruited by utilizing a professional college soccer recruitment specialist with established college coach connections; full-time staff members dedicated to providing one-on-one college and postsecondary readiness support; and a variety of college soccer recruitment programming throughout the year.
Next Boys & Girls College Soccer ID Event:
Monday, February 20th 2023
*Presidents Day (No School)*
Girls: 12:00pm - 1:20pm
Boys: 1:30pm - 3:00pm
Colleges in attendance at our most recent event:
College of Lake County IL
Carthage College WI
Eureka College WI
Calumet College IN
Loras College IA
Central College IA
Rockford University IL
University of Illinois
Heart of the City's Program Pathway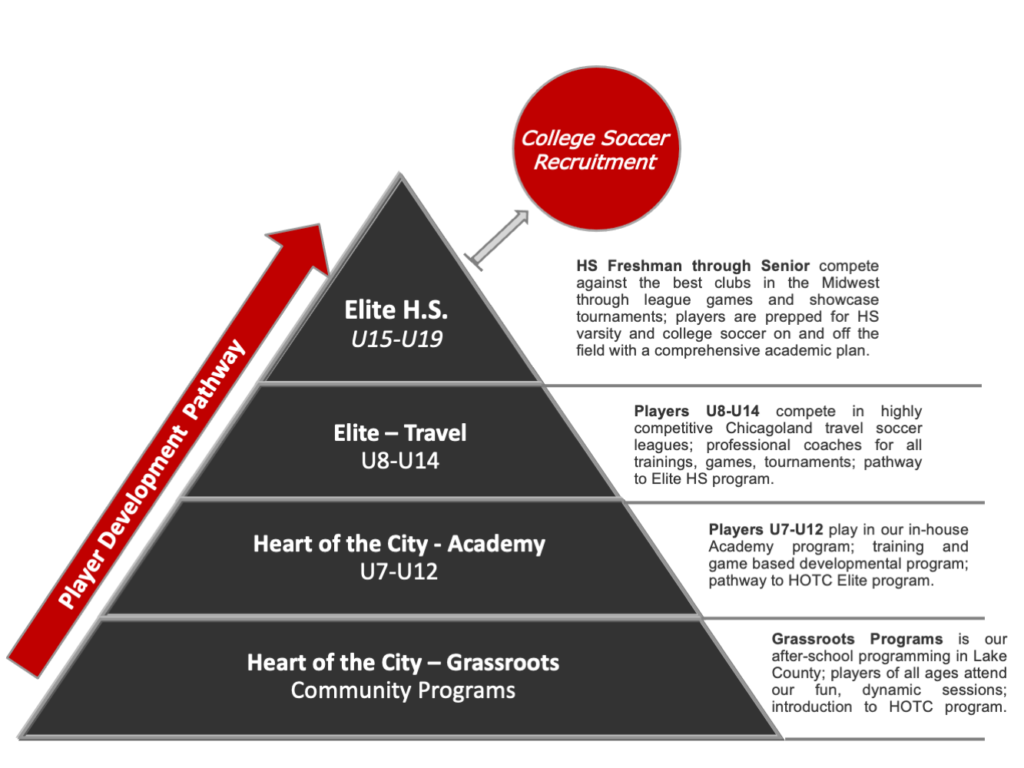 College Soccer Recruitment Specialist – Rob Kettle

Established relationships with colleges/coaches

Full-time Education Coordinator and College and Career Advisor on staff to support student-athletes through every step

College Soccer ID events hosted by Heart of the City

Participation at college showcase tournaments

Intentional college visits focused on soccer recruitment

Informational seminars – processes, soccer in college, scholarships, college life, and more

Quality player profiles and video highlights to showcase our players to college coaches

Partnerships with Honest Game (eligibility) and NCSA (exposure)
Why should my student-athlete consider playing soccer in college?
Scholarships
Many college athletic programs will give you a scholarship or financial aid of some sort for playing. This means that your child could get partial or potentially 100% of their college education paid for!
Structure & Support
College athletes enter college with a built-in support system of coaches, friends/teammates and trainers. They have a physical outlet to relieve day-to-day stress as well as motivation to stay on track with their academics.
Life Skills
Participation in college athletics teaches student-athletes discipline, commitment, time-management, and how to work with different people… all skills that potential employers look for!
My student-athlete is interested in playing soccer in college. What now?
Current Heart of the City Players:
Talk to your Heart of the City coach >
Coach will connect you with Rob Kettle, College Soccer Recruitment Specialist, for an initial meeting >
Rob will discuss your academic and soccer goals, find schools you may be interested in, go over important eligibility rules, and begin to formulate an action plan
Potential Heart of the City Players:
All high school players welcome. There is a process to be recruited by Heart of the City for our travel program: tryouts > acceptance > registration > player/parent agreement. Please contact Letisia Gutierrez for more information and to get started on your College Soccer Recruitment pathway at: letisia@hotcsoccer.org | (847) 623 6200 ext. 1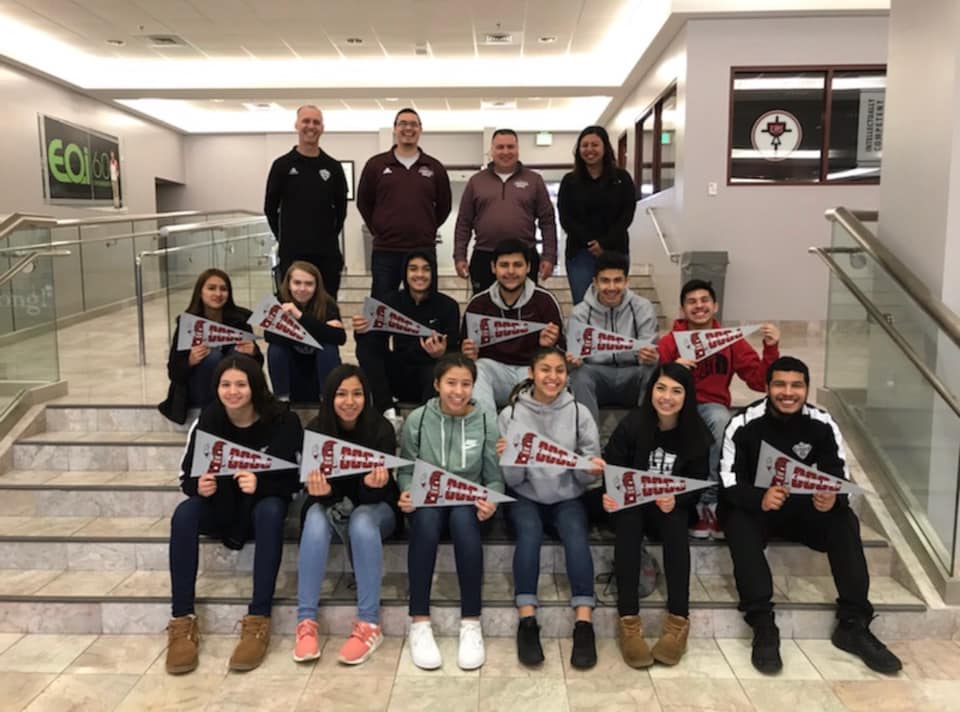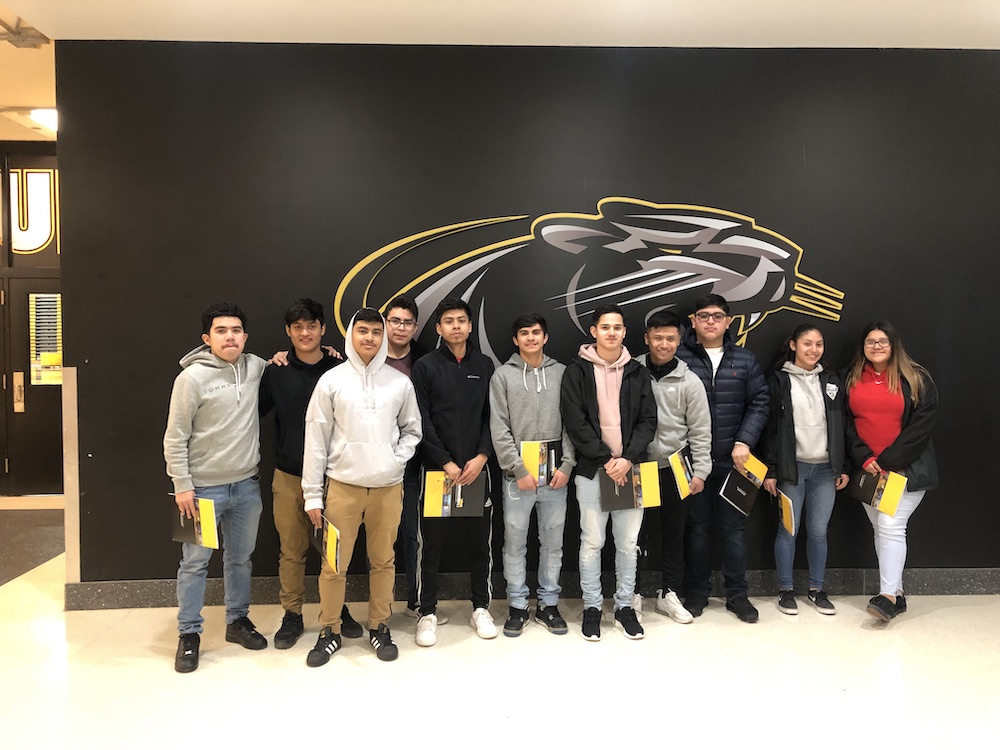 Student-Athlete Testimonials
"Heart of the City is an amazing program that has helped me grow as a person and a player, I gained most of my confidence my first year there. As well as that I was given many opportunities like getting my referees license and coaching license which has also helped me grow as a player. I'm very grateful for everything they've done for me and all the memories I've made." --Desareih Juárez, College of Lake County – Student-Athlete
"I believe Heart of the City is a great option for anyone that is looking to continue their soccer career in college or even professionally. Heart of the City provides great training and quality coaches. It is a place where any player can feel comfortable working on their skills without feeling judged because it is not just a soccer club, it is a family. As soon as I joined, I felt welcome and felt as if I was already a big part of the team. Heart of the City Soccer has had a huge impact on my college experience and my life in general. If it weren't for Heart of the City, I wouldn't have been able to continue to play the sport I love in college and make lifelong friends. Heart of the City helps us become better players and allows us to become better people by giving back to the community through volunteering. Heart of the City also provides support for people around their community, not only its players. They offer things like food and supplies to help people in need. This club has helped make me the person I am today, and I could not be more grateful to have been a part of it, and I hope to continue to be a part of it in the future whether it is through their coaching opportunities or just staying in touch". --Sofia Melesio, Marian University – Student-Athlete
"Heart of the City is a very respectful club and organization. My time at the club was enjoyable and also informative. I was able to keep playing, but there was also flexibility with a lot of school-related things that were important.  In addition to providing a quality soccer program,, they are focused on helping the community in different ways. They focus on providing the time and resources necessary to help students with their academic and college paths. The organization is aware of problems and does its best to provide resources to families to help them in any way possible." --Jorge Alvares, Lake Forest College – Student-Athlete
College Coach Testimonials
"As a college coach, (Heart of the City) provided a great environment to recruit players to the next level. They are well managed and organized, we are looking forward to continuing working with them in the future to bring strong players into our college program from this club."  --Madison Carruthers, Wisconsin Lutheran College Assistant Women's Soccer Coach
"The staff and coaches at HOTC have a genuine heart for their student athletes. Their commitment to educate, provide direction and guidance, while maintaining accountability throughout the growth and development of quality student athletes, demonstrates the culture of this program. The communication with college coaches and the effort put forth in creating opportunities that will impact their lives is exceptional. I am honored to have been able to develop a relationship between Lincoln Christian University Soccer and the staff  and students of HOTC!" --Steve Lord, Lincoln Christian University - Head Men's and Women's Soccer Coach