Heart of the City is proud of the roster of professional coaches who serve our student-athletes. Their experience and knowledge of the game is critical in ensuring our player development goals are met. Moreover, our coaches are positive role models and care deeply about imparting key life skills through the game of soccer. We will continue to invest in our coaches and their education to ensure our student-athletes are receiving the best possible experience and education.
Thomas Cahue
Director of Team and Football Operations
Thomas leads our coaching staff and is responsible for delivering our player development curriculum. Thomas has extensive knowledge in developing youth players to play at the highest club, high school and college levels. His coaching experiences over the past 16 years with recreation, club, ODP and a professional indoor team has given him a true understanding on how to run a top quality soccer program.
Omar Mendez
Staff Coach
Omar has over 12 years of coaching experience within the North Chicago, Waukegan and Zion areas at various levels. Coach Omar was a WHS School Varsity player for two seasons in 1999-2001 and continues to play at a good level in adult leagues across Lake County. He holds the USSF Grassroots and D Licenses.
David Motley
Staff Coach
Dave played for Waukegan East High School from 1984-1988. He was named All Conference to the Central Suburban League twice in 1987 and 1988. As a team captain, Dave led the Waukegan East High School team to back to back Regional Championships in 1987 and 1988. Dave's knowledge of soccer and the local community is essential to our program. He holds the USSF Grassroots and E Licenses.
Briana Huetson
Staff Coach
Briana was a standout player for both Lombard Firebirds Club and Glenbard East High School. She then moved her talents to Benedictine University where she played Division III soccer for four years and earned her Bachelor's Degree in Mathematics with a minor in Secondary Education. Briana is currently a math teacher at Waukegan High School and the JV girls coach. She holds the USSF Grassroots and D Licenses.
Carlos Contreras
Staff Coach
Carlos brings great energy and expertise to our program. He is a current professional player, most recently with the Milwaukee Wave, after previously playing with Minnesota United and collegiately at the University of Wisconsin Parkside. Carlos has high school and college coaching experience with Spring Lake H.S. and Anoka Ramsey College respectively. He holds the USSF D license.
Lenda Arizmendi
Staff Coach
In addition to Lenda's role with Heart of the City's College & Career Readiness Program, she also coaches with our on-field programs. Lenda is a Warren Township HS alumni, where she played all four years. She was then recruited to play Marian University in Wisconsin, where she played as a central midfielder. Lenda's story is translatable, tangible and inspiring to our high school athletes. She holds the USSF Grassroots licence.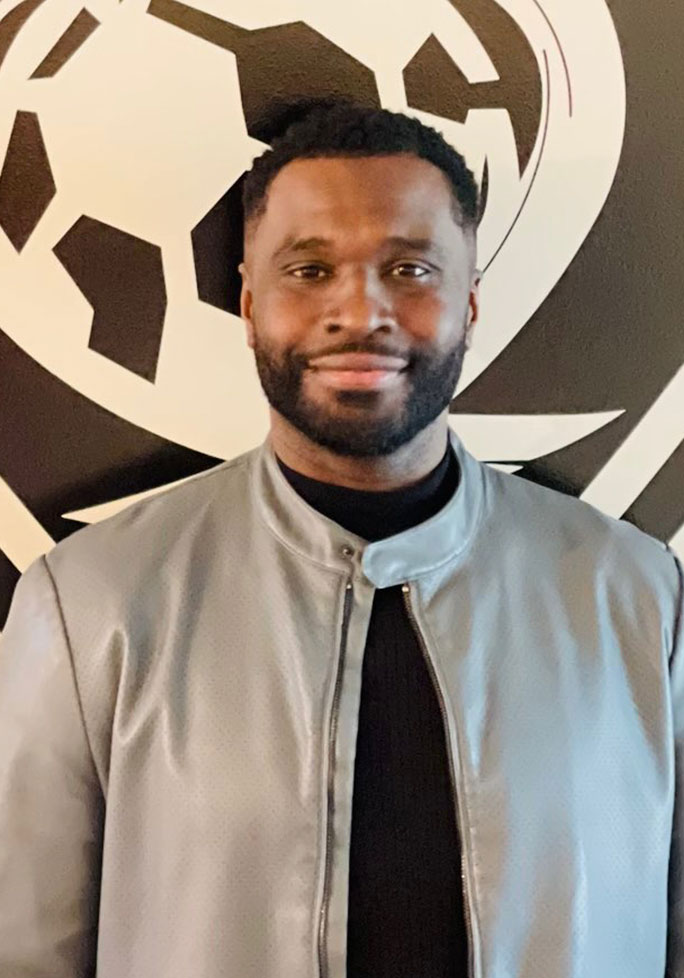 Walid Abughrin
Staff Coach
I've been interested in soccer my whole life. My soccer career started early at age of 7. I played for several youth leagues growing up. As an adult I've played semi-professional and professional soccer in the Middle East and Europe. I have obtained several licenses including a UEFA C License, UK FA and talent ID, US Grassroots Most recently I've been working as a youth coach and scout.

Joshua Carnahan
Staff Coach
Coach Josh works primarily with our Grassroots and Soccer Academy players. He has tremendous ability to motivate and teach foundation skills to our young athletes. After 20 serving in the US Navy, Josh relocated to Libertyville, where he coached with Greater Libertyville Soccer Association. Josh has 6 kids, 3 of which play travel soccer. He holds the USSF E license.
Maninder Gill
Goalkeeper Coach
Maninder (Mindi) has an extensive background as a former DOC at Green & White S.C and semi-professional player in England. Mindi works with Heart of the City Goalkeepers. He is a current staff coach for the Illinois Olympic Development Program (ODP) and holds the following coaching licenses: USSF C, USC Advanced National Diploma and USC Goalkeeper Level 1 & 2 Diplomas.
Rob Kettle
College Soccer Recruitment Specialist
Rob is a former college coach and club director with over 25 years of coaching experience. His collegiate career includes head coaching positions at Benedictine University (IL), Miami University (OH), California University (PA) and Curry College (MA). He holds a Master's Degree in Physical Education and a US Soccer 'A' Coaching License. Since 2014, Rob has owned/operated a college soccer recruitment service – assisting soccer players (mainly from the Chicago-area) that are looking to get recruited to play in college and receive scholarships. He has helped over 300 players get recruited in the past 6 years. Away from work, Rob spends his time over dog parks with his 170lbs bullmastiff, Tetley.
Dean Smith
Sporting Director
As the Sporting Director, Dean leads and manages Heart of the City's program staff. Dean has been involved in soccer all of his life and even played professionally in England. After his professional career, he began coaching at Derby County F.C. Academy and has since worked as a college coach, Director of Coaching, and most recently a staff member of Illinois Youth Soccer Association. Dean was drawn to Heart of the City because he saw an opportunity to help youth access a sport that he knows can make a positive difference in their lives.
Interested in coaching for Heart of the City? Contact our Director of Team and Football Operations, Thomas Cahue, at thomas@hotcsoccer.org.