Achieving Excellence On and Off the Field
Emphasis on College-Readiness
Expectation of academic success: grade monitoring
On-site homework resources and tutoring help
SAT prep courses
Coordinated college visits
Financial assistance with college application fees
Support navigating college financial information (FAFSA, scholarships)
Online player profiles created with Hudl software, connecting players to college coaches and recruiters
Volunteer opportunities
Emphasis on Job-Readiness
Establishing strong work ethic
Accountability
Responsibility
Punctuality
Mentorship
Valuable life experiences, such as travelling nationwide via air or bus
Wednesday, March 27, 2019 - UW Milwaukee (Milwaukee, WI) and Bryant & Stratton College (Wauwatosa, WI)
Free & Open to all HOTC athletes!
Departure: 7:15am (be at HOTC by 7am)
Return 5pm
Lunch provided
UW-Milwaukee: admissions presentation & campus tour
Bryant & Stratton College: info session, campus tour, & meeting with Head Soccer Coach
Ask your coach for a permission slip & return by March 20
Friday, March 29, 2019 - Carthage College (Kenosha, WI)
Free & Open to all HOTC athletes!
Departure: 12pm (be at HOTC by 11:30am)
Lunch provided
Return 5pm
Academic fair, student panel discussion, admissions & financial aid seminar, campus tour
REGISTER & return permission slips by March 22
Registration required for this visit! Register here or contact Andreina at andreina@hotcsoccer.org.
Deadline to register is March 22.
Congratulations to U19 Elite athletes, Desareih & Denise!
Desareih (left) and Denise (right) received sizable scholarship offers from Manchester University and Saint Xavier University respectively. They will both be the first in their family to attend college.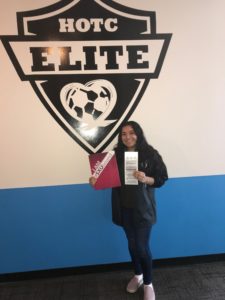 Referee Training Clinic, Jan. 26-27, 2019
We hosted this clinic through the Illinois Soccer Referee Committee, and 38 of our athletes earned their official certifications!
Working as a referee will allow our athletes to earn extra income, gain job experience, and learn about soccer from a new perspective. Thank you to our supporters for making this possible!